Trade Radar Toolbox
The Trade Radar roundup of investing tools. Categorized so you can easily find the tools you need. Don't trade without them!
There are more financial sites out there on the web than can be counted. Most of them are looking to make money through paid subscription. I have listed sites that provide a significant amount of free content or tools. They are serious about providing a "try before you buy" experience for their customers.
I have categorized the sites based on their strengths and have provided comments on what is best or most unique about each site. Some sites are mentioned more than once because they are strong in more than one category.
Stock Signals and Technical Analysis
AmericanBulls.com
- Uses candlestick analysis to generate automated buy/sell/wait signals for short term trading. Click the link here to go to their homepage or use the form in the left toolbar to look up a stock of your choice.
StockTA
- Technical analysis, charts, Fibonacci analysis, opinions, news, analyst rankings, etc.
StockConsultant
- Technical analysis, charts, timing indicators, support and resistance, etc. Click the link here to go to their homepage or use the form in the left toolbar to look up a stock of your choice.
TradeRadar
- Charts using the Trade Radar methodology. Generate your own signals and determine the best time to BUY or SELL. Free download!
Watch one of the TradeRadar training videos to see how to
generate a BUY signal or generate a SELL signal.
Big Investing Sites and Portals
These sites provide one stop shopping for investor information. They all provide general market coverage, quotes, charts, news, earnings information, company profiles, etc. Everything you need to do basic research on stocks, ETFs, mutual funds, etc.
Investing at Yahoo! Finance
- Site is very rich in content and is, deservedly, one of the most popular finance sites on the web. In addtion to the basics, it also provides content from Briefing.com
Investing at MSN Money
- Offers the StockScouter rating system.
MarketWatch
- The StockPickers feature provids insights into what working money managers are investing in. Also features news by industry sector.
Morningstar
- Well known for their depth of information on mutual funds and their fund ranking system.
SmartMoney.com
- Has a good Sector Tracker for seeing what's hot and what's not. Also check out the Map the Market and Map your Portfolio features. Look under Tools & Maps for both of these.
Wall Street Journal Markets Data Center
- WSJ is finally offering free content that is surpisingly extensive. Lots of tables and charts as seen in the new redesigned paper, information for foreign and domestic stocks, commodities, currencies, bonds and mutual funds.
BusinessWeek - Company Insight Center
- What I really like about the BusinessWeek presentation is that they provide four years or four quarters of financial data when researching a particular stock. This makes it so much easier to evaluate sequential performance.
Suggestions for using these tools
I have written a series of blog posts that suggest ways to use the tools listed on this page to identify good investing ideas. Here is a list of the posts:
10 keys to better investing for regular people
- This post gives an overview of ways to find good investing ideas and then how to perform the necessary research to validate those ideas.
Unlock Stock Market Profits - Key #1
- This post concentrates on finding good investment ideas using unusual activity as an indicator.
Unlock Stock Market Profits - Key #2
- This post goes into detail on how to use a stock screener and shows different results available with several different screeners.
Unlock Stock Market Profits - Key #3
- This post looks at how new highs and new lows can point to stocks with momentum or stocks ready for reversals.
Unlock Stock Market Profits - Key #4
- This post is focused on identifying social or business trends in order to find investing ideas.
Making it easier to do research, you can use the
"trade radar linkz for stock analysis"
located at the top of this page. Just enter the symbol for a stock or ETF and pick your information source from the dropdown list. Click the button and get the specific charts, EDGAR listings, blog posts and other financial information for that selected security.
Stock Screeners
TradingStockAlerts.com
- there are four interactive screeners at our sister site that provide unique ways to find stocks that are showing recent changes for better or worse. Includes some of our proprietary Buy and Sell signals as well as our Trend Performance Score. Become a member and get access to shared screener setups created by other users.
Morningstar
- offers a screener that lets you search for stocks using many of the famous Morningstar criteria. You will need to register at the site in order to gain access.
MarketWatch
- simple, easy to use screener
CNBC
- offers a stock screener and a mutual fund screener. Most interestingly, there is also an earnings screener which provides screens and a daily view of analyst upgrades/downgrades/revisions, reported and expected earnings.
Guru Screener
- Pick 'em like the market guru's do using this screener at the NASDAQ site
WSJ ETF Screener
and
WSJ Mutual Fund Screener
- Two screeners from the Wall Street Journal Online - one for ETFs and one for Mutual funds
Tools at Schaeffer's Research.com
- Lots of pre-built screens based on Bernie's Put/Call Open Interest Ratio analyis techniques. Options are a focus on this site, often to use as a guide for analyzing stock performance. Sometimes, a contrarian point of view is expressed and that is useful as a counterbalance to the accepted market wisdom of the day.
Zacks.com Screening
- Has both a Custom Screener that is interactive and a set of Predined Screens that includes some you may not see elsewhere (change in analyst recommendations, for example).
StockCharts.com Predefined Scans
- Screens based on technical indicators, candlestick patterns and point and figure patterns. Includes stocks on major indexes (including Canadian) and mutual funds.
BarChart.com
- Not really a screener but BarChart.com slices and dices the markets into all kinds of finely tuned categories and shows you what is hot and what is not. Includes stocks, commodity futures and forex.
FinViz.com
- really full-featured screener at the Financial Vizualizations web site which also offers news, market maps, insider trading info and more. Highly recommended.
Charts
Many, many sites provide charts in addition to other content. These two really specialize in charts and provide lots of technical indicators and overlays.
BigCharts.com
- great online charting
StockCharts.com
- the name says it all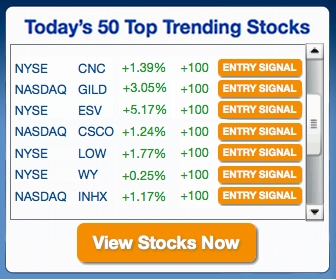 Social Networking Sites for Investors
Web 2.0 style sites where investors can share ideas and get ranked on the accuracy of their stock picks. Most sites have message boards or blogs that allow users to interact with others. Other sites allow users to rank articles and blog posts or share favorite links.
CAPS feature at MotleyFool.com
- Make predictions on whether a stock will beat the S&P 500. Users are rated based on performance of their picks.
SocialPicks.com
- bills itself as a community for stock market investors to share investment ideas, exchange market research, and track peers' investment performance. Users can create networks, share tips and track each others investment performance. Users are rated based on performance of their picks and other users' feedback.
StockPickr.com
- Now featured on the MarketWatch site, StockPickr offers a number of interesting features. See the portfolios of famous investors like Warren Buffet and George Soros. Make your own recommendations and subscribe to the recommendations of other users both professional and amateur. The site matches your portfolio with the thousands of hedge funds, mutual funds and other peer portfolios (DIY portfolios) that have a similar composition. It also allows you to network, research and discover new ideas in the financial market arena.
Stockalicious.com
- Users create and share their portfolios. The site tracks best and worst portfolios, top stock picks, provides user reviews of brokers and books, lists of most active stocks and more.
Feed the Bull.com
- Like Digg.com but for stock news. Users submit stock market related stories and vote on them. The site provides feeds based on industry segments
Analysis and Commentary
Briefing.com
- great commentary and up-to-the-minute news. Their
In Play
feature updates throughout the trading day and is often a good source of investing ideas. Worth subscribing to.
Motley Fool
- this site has tons of commentary; their articles are often highly ranked in social tagging sites like Digg, Technorati and DigStock. As a bonus, they have strong stock research content as well.
Schaeffer's Research Commentary
- Lots of market observations plus the
Daily Contrarian
and
Schaeffer on Charts
. A free membership gets you access to more commentary as well as more tools.
Zacks.com
- Provides commentary on industry sectors as well as individual equities. Recurring features include Analyst Blog, Earnings Analysis, Profit Tracks, etc.
Seeking Alpha
- blog aggregator providing commentary on stocks, ETFs and commodities from professional and amateur investors alike. Wide variety of opinions and active user comments.
Download Historical Quotes
A couple of links are provided here that will allow you to download historical quotes in a text file that you can load into a spreadsheet or into the TradeRadar software.
Yahoo! Finance Historical Prices
- This link opens up with prices for GE. Pick a date range, enter a symbol of your choice and click GO. The link for downloading is at the bottom of the page
Price History at MSN Money
- This link brings up a chart of GE. After selecting the symbol of your choice at the top of the page and then setting your date range, you will be presented with a new chart. Scroll down and click the
Price History table
button. On the page that comes up next, click the Download File button to get your price data.
Investor Education
Altavest
- info on candlesticks, futures and options, Elliot Wave, etc. This link takes you to the Candlesticks section. Other topics are located under
Analysis Methods
and under
Education
.
HotCandlestick.com
- extensive list of candlestick patterns with pictures and explanations
StockCharts.com
- explanations of techncial indicators often used on advanced charts. Click on an indicator and it is explained in detail with examples provided.
Education at Schaeffer's Research
- covers stocks, ETFs and options strategies. Goes from the basics to advanced topics. Includes a glossary.
DinkyTown.net
- all kinds of financial calculators